Why choose XEPOS for Chinese takeaway shops?
Chinese cuisines always have diehard fans and that is why ordering Chinese on the weekends is always an option on the table when it comes to having a fun night home. But handling the business like a pro is not something that all people know how to do. That is why we have provided an epos system specifically made for takeaway businesses to help you control your business without having to work hard. We have addressed each and every pain point you might have and came up with a solution to solve all of them at the quickest way possible with the highest quality available.
Create your menu with a few clicks and keep it up to date. If you have other menus besides Chinese, you can create another menu containing different cuisines. Plus, you can categorize your food easily to keep your menu neat and organized.
When a customer calls, you will immediately see the order page which helps in time-saving and doing things quickly. If it's a new customer, you can save the information on the system effortlessly. This feature is important for so many reasons, among them, is having a customer database for marketing purposes. You can send marketing emails to your list from time to time to encourage them to come back and remember your brand so the next time they think about ordering food, you would be the first name that comes up to their mind.
It's hard to identify which products are selling better and which ones are just wasting your money. So our epos solution can show you your best-selling products to help you keep them in the spotlight. And we also let you know when to order more to always have the necessities ready to use.
A visual map has been provided for you to act as a guide and show you how far your customer is. You can add a service charge based on the distance and even decide about midnight and weekends' delivery charges. A free delivery charge period can also be set in the system for the customers who are nearby.
Additionally, let your customers pick the delivery time and take the food to their doorstep at the specified time to see the smile on their faces when they open up the door.
Try XEPOS Risk Free
Contact Sales
Chinese Takeaways from just £99.00
Please note: Complete System can be purchased for just £99 when bought with a 12 month support package for £30+VAT p/m. After completion of the contract, the system is yours.
Chinese Takeaways from just £15
Whether you need a complete system or just software we have the solution for you. Get started for just £99 for the complete system or £15p/m for software only packages. Need an integrated card terminal? Don't worry we have got that covered too! £15 per month for software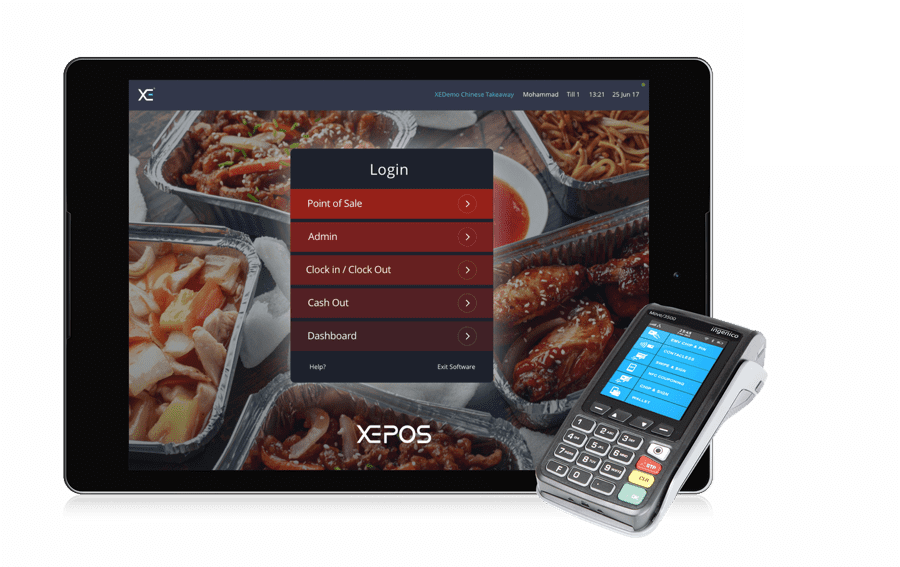 Try XEPOS Risk Free!!
We have spent the last 6 years working with other businesses in your sector. We understand every painpoint,
that's why we have created the perfect epos system specificaly for your business, with every feature you will ever need.
Contact Sales