Close
Create a Stock List
Create a complete list of your stock in a blink of an eye. Easily add your menu into your system and edit it on the fly whenever you want. You can even add your ingredients and quantities to each item on the menu, and have your available stock updated in real-time.
Pricing
Pricing products has never been easier. Avoid laborious, pointless and time-consuming methods. With a few simple clicks, see your product, price and any other vital information in the system within seconds.
Quick input
Takeaway businesses need to stay on-top of their stock at all times, and when one cog in the machine fails, everything can come crashing down. New stock? Use an XEPOS system and save vital time and energy. Large menu? You can add a variety of similar items in one go, and then edit them individually.
Promotion and Discount
Run promotions and discounts on multiple products, with time periods and limits built in. Easily run and manage these promotions and discounts for multiple locations as well.
Customizable Tax Rate
Everyone hates working out their taxes, especially if involves products which do and don't need to be taxed. With an XEPOS till system, we do all of the hard work for you, simply enter the tax rates into the system, sit back and watch as your taxes are automatically calculated.
Live Monitoring
Make sure there is always enough to go around in the store for your customers. View your stock level in real-time from your online back office. XEPOS can count everything down to the last drop and make sure you never miss a sale!
Smart Notification System
Too busy to remember your stock count? No problem! Define a threshold and a user for your EPOS system and receive a notification when it's time to order!
Stock Transfer
Whether you're short on something in one location, or just changing items between locations to better control your stock flow, we help you transfer stock instantly and keep a papertrail wherever you go.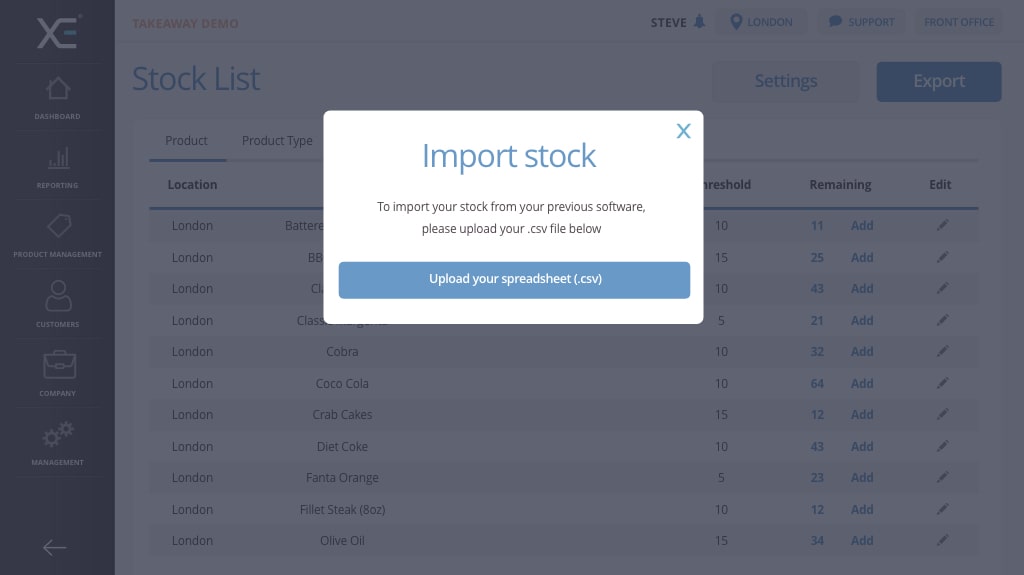 Import Effortlessly
Whether you're changing from your old EPOS system or want to import the data from catalogues, we have included a bulk item transfer for your product lists. Now you can easily import products in large quantities with CSV files.
Product Variation
Create a catalogue of unique variations for each and every item on your menu. Easily program your menu with all the variants you need, to help both you, and the customer understand your stock.
Unlimited Categories and Subcategories
Create different categories and subcategories to make navigation easier for you and your staff. You can even colour code different categories to make them easier to spot.
Define Suppliers
Having a supplier database is a great way of easily ordering resupplies and ingredient orders. Enter the name, description and address in the system and have the information ready in a flash.
Neat Organization
Organize your products based on different parameters like supplier dishes, meat, meals, category, etc. and keep your inventory in check at all times.
Trouble-Free Ordering
Ordering won't be a challenge anymore when you have an XEPOS system. Easily place stock orders, estimate arrival date, pre-log stock, and easily add the items to your database when the shipment finally arrives!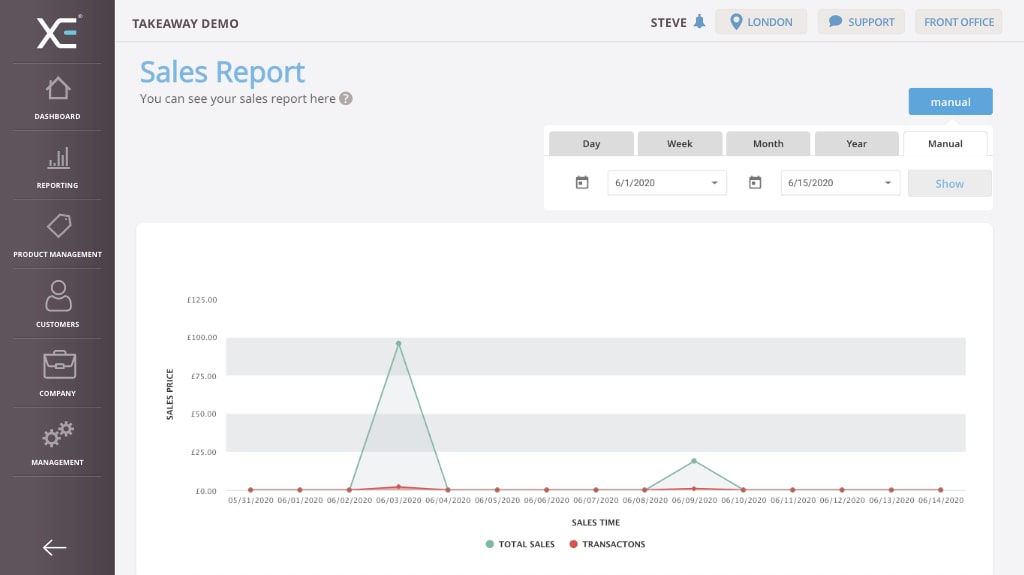 Detailed Reporting
Make well-informed decisions when it comes to buying and selling strategies. We provide detailed stock reports and sales records showing your top-selling products. With the information you need, you can easily make the important decisions, such as choosing which items should and shouldn't be kept on the menu.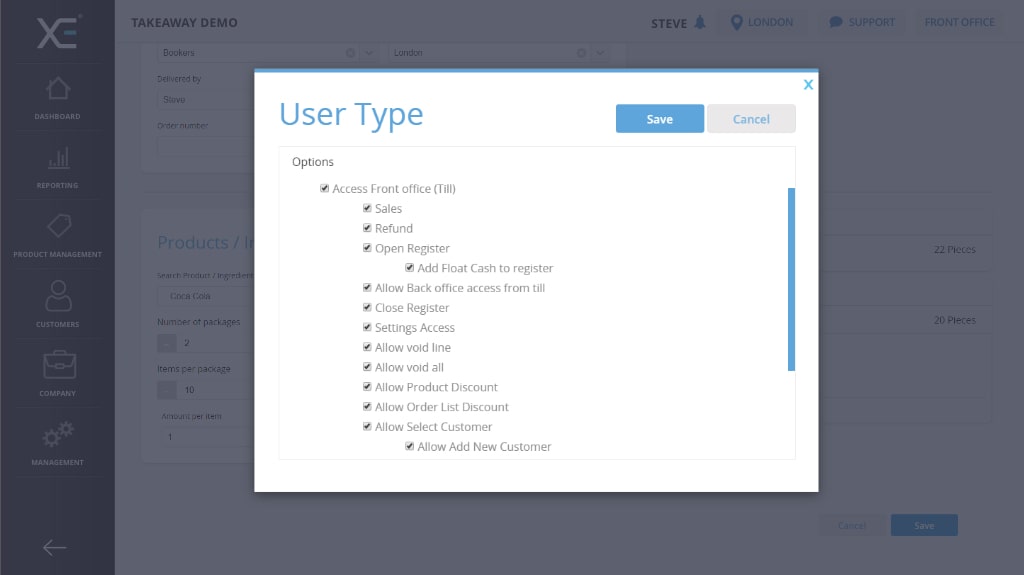 Staff Access Management
Want to keep all your sensitive information safe? Does your business make use of multi-level ranking? Control every users access levels with customisable security management. Set independent or ranking based permissions to stop people seeing things such as sales, reporting, analytics and more. Also stop users from doing things such as; refunding without a supervisor, changing customer details, processing a cancellation. all from within a single back office.
Quick and simple clocking system
The XEPOS system is the last stop in business management. We include a full, feature rich, clocking system. Set working hours, disable accounts when holiday is taken, set lunch breaks, view detailed reports from the back office. On top of all that? Your staff members can sign in and out of any system you have, within a couple of seconds.
Staff Reports
Doing your end of month payroll? Want to check how that new staff trial is getting along? Enter your back office and have a wide library of staff reports at your disposal in an instant. Not only do we give you detailed clocking reports, we also give you the ability to search through any of our other reports with specific staff member accounts.
Intuitive Software
Staff will be easily able to learn and get accustomed to your XEPOS system, as we have created our software around a variety of computer competency levels, so even the least skilled user can use our system without an issue. And if you have any issues? Our technical support and installation teams can help you out no matter the issue.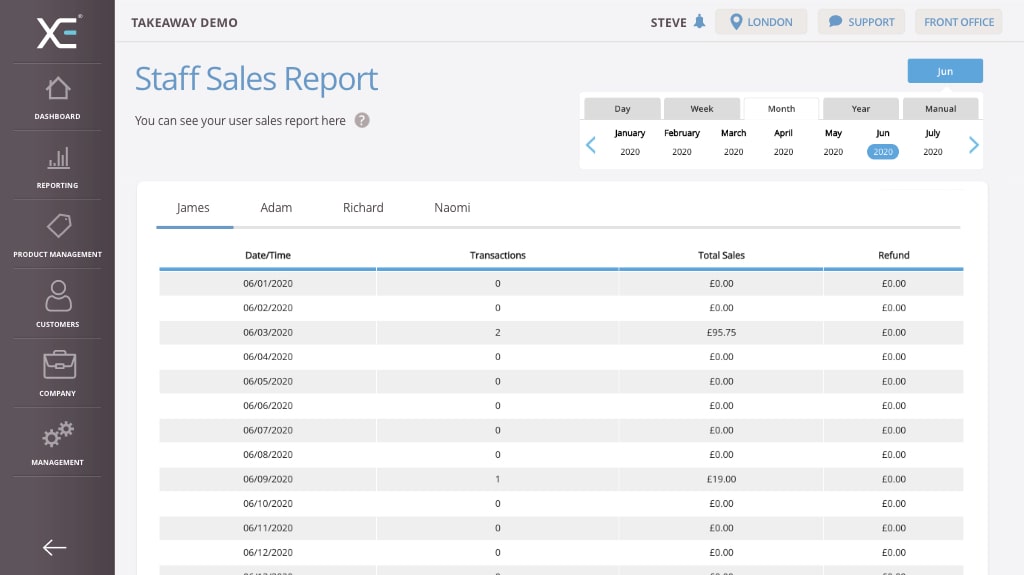 Find Staff of the Month
Analyze your staff members' performance and give your best employee's the benefits they deserve for their hard work. Control dynamic benefits such as bonuses, discounts, and many more. Equally, push your other staff members, by setting achievable goals, and rewards for when they hit them.
Give your customers the appreciation they deserve for their loyalty
Reward loyalty with a grand range of incentives, keeping your customer base interested and more willing to spend more.
With a wide variety of different options that you can take advantage of, we ensure that no matter the type of incentive you would like to provide, we can suit you and your customers needs.
Create a stamp or returning visits loyalty card, and offer a variety of end point incentives, anywhere from money off, to entire meals for free. We give you the diversity to create loyalty cards fit for your exact business
Create a personal, first name basis with your customers. Create detailed and secure customer accounts, with as much detail as you want.Just want basic information? Create a simple customer account with details such as their name, age (for alcohol consumption) and other basic information.Provide intimate services such as spa treatment or high class hotel/restaurants? Turn your customer accounts into a wealth of information and data. Send out email receipts with integrated email integration. Include allergy or recommendation notes, and have them brought up whenever the customer's account is activated on the system.And for you? Easily track and monitor customers or members habits, along with individual trackers per customer, allowing you to see everything they are purchasing within your business
Discounts and gifts. Give your returning customers benefits such as variable or flat discounts just for their custom.
Customer Accounts
Customer Database
Create customer profiles and accounts and keep all the information you need in one place. See previous orders, personal details, even set up a tab or balance for customers you trust.\
Caller ID Integration
Use Caller ID information to determine who is calling before they've even said their name. Creating a close relationship with your customer and speeding up ordering times.
Categorize your customers
Specify a group for your customers and categorize them based on their interests, and tailor marketing emails to better hit your target group.,
Customer Purchase History
View customer records individually or as a group and find out your best sellers, or reorder exactly what a customer had last time they visited.
Visiting Frequency
Check your customer's visiting trends and frequency, and better adapt to market trends.
View recent calls
Need to check who called 30 minutes ago? Our software keeps a record or everyone that has called so you always have the information you need.
Kitchen Orders
Using network based thermal printers, you can instantly send food & drink orders to your kitchen, and have your chef or cook immediately pick them up, complete with order numbers and online ordering integration.
Customise Orders
Create orders specific to your customers needs. Edit products and menu items, adding and removing attributes and components, better suiting the customers needs. No lettuce on a burger? Simply customise the item and remove it. Best of all, any adjustments will be front and center on your kitchen print out.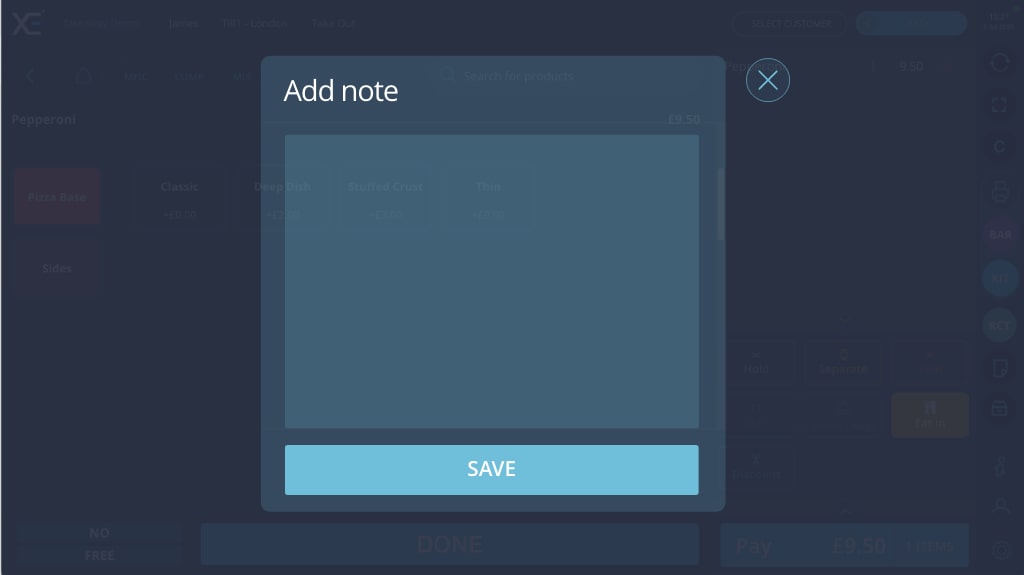 Notes
Customers have specific dietary requirements or allergies. With our linked notes feature, you can quickly add notes to either the entire order, or individual items on an order. Regular customer? Attach notes to a customer's account and have them present on the order.
Collection, Delivery or Eat-In
Use a variety of different administration tools to help you prioritise your workflow. Choose between eat-in, takeaway and delivery options and help your staff understand what is happening. Alongside this, any sales are recorded using the same method, meaning you can easily trace back previous orders.
Open and Held Orders
Customer asked you to hold an order? Tired of writing down on paper? With XEPOS you can create a held or open order in a press of a button, and access all of your held orders in one central location. Easily reactivate the order, or delete within a moment, all from the front office dashboard.
Repeat Orders in an Instant
Create identical orders in an instant with our automatic order fill. Pull orders from as far back as 12 months ago, and have them instantly recreated as a fresh order. Customer still has the receipt from their last order? Search their order number and pull up the order immediately and have it ready for resale.
Timed Orders
Customer called up for an order in 1 hour? Create an order and with the click of a button have it put on timed release, for a time period of your choosing. Create custom notifications directly on your XEPOS machine and have your staff properly notified on when an order needs to be prepared.
Telephone Orders
With Caller ID integration you can instantly have a customer's details on your screen. Using our detailed customer details database you can also catalogue a large range of information, such as regular orders, allergies and more.
Custom Reporting
We understand reports and analytics can get confusing very quickly, that's why we give you the tools you need to stay on top of your paperwork. All of our graphs, charts and reports are fully customisable, letting you view specific days, staff, tills and more, all from one central location.
Custom Receipt Templates
Use our custom receipt template tool and increase your public outlook. From including your logo, to adding specific totals and variables that are essential to your business. We give you what you need to make your own brand.
Menu Personalisation
Personalise your menu with a variety of features. Change colours of icons, for both products, and the categories that contain them. Want something a bit more? Attach any .png or .jpg to categories or products and make it easier for your staff to know what they need to order.
Ingredients and Attributes
Want to have complete control over what comes and goes in your business? Need to keep your ingredients in check. With XEPOS you can enter every amount of every ingredient, assign specific amounts and have our back office software automatically work out the rest for you.
Quick Edit
Noticing a discrepancy in your reports? Perhaps you need to update your menu prices? No matter the reason, our powerful back office software can be used to quickly and efficiently, and can be used to update one, or multiple till systems in an instant, to keep your books in check.
Pop-up Notes
Need to leave a message for your staff? Keep your employees informed with notes and pop-ups. Create customer specific notes and have the note automatically pop up whenever the customer's account is used on the system. Link notes to payment methods, products, customers and more, all within one back office.
Delivery charge
Integrate and customise your delivery charges within the XEPOS back office software. Automatically update delivery charges based on staff availability, time and more. Enable and disable delivery charges per order or per customer account to help keep your customers happy.
Regional, Time or Distance based Delivery Charge
Create a wide variety of delivery locations and distances, all with their own delivery charges.
Regional
Create distinct and precise regional areas with individual delivery charges to help you keep prepared for anything.
Time
Detailed and precise, use our time-based delivery charges to determine fuel costs, along with any additional fees you want to apply.
Distance
Using expanding radius from your business, you can easily create an operating perimeter of delivery charges.
Online Ordering
Need to boost your income methods, with XE EATS, you can easily create a new revenue stream for your existing customers, as well as creating a perfect platform for any new customers. Easily link XE EATS to a website and have online orders instantly sent through to your till system, straight to your kitchen.
Multiple Payment Methods
Online, in store, or pay-at-door, no matter which way your customer wants to pay, we provide you a variety of ways to complete your transactions.
Online
Let your customers choose how they want to pay, use an online payment gateway, collection payment or delivery payment.
In-store
Give your customers the choice between card, cash, account and more, all supported directly within our software.
Delivery
Payment by card, cash and more, all readily available with an XEPOS system.
Transaction History
XEPOS logs every movement in your business, including all debit/credit transactions. View detailed reports, logs, charts and more all within the XEPOS back office software. Easily bring up logs of transactions in an instant, using a variety of parameters, including time, date, amount, customer, payment type and many, many more.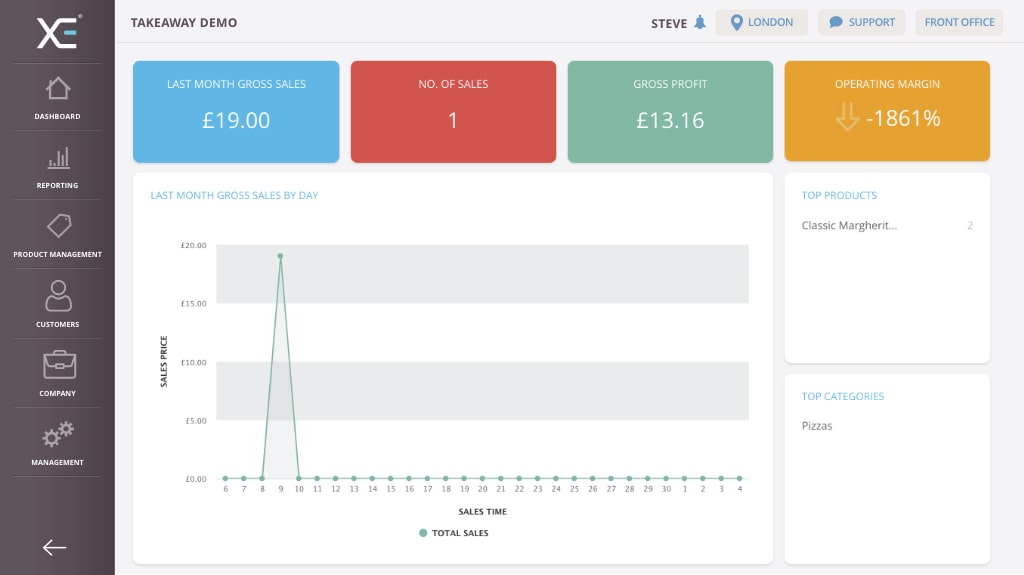 Online Dashboard
View your most important graphs and reports straight from your online dashboard. With detailed customisation you can easily and quickly and easily see whats most important in one place.
Transaction Logs
XEPOS logs every movement in your business, including all debit/credit transactions. View detailed reports, logs, charts and more all within the XEPOS back office software. Easily bring up logs of transactions in an instant, using a variety of parameters, including time, date, amount, customer, payment type and many, many more.
Sales Reports
Get a wide variety of sales reports, all from within your back office. Transaction logs, independant item sales, group item sales, end of day reports and more.
Staff Reports
Keep your staff under control with a selection of staff reports. Clocking reports, activity logs, transactions per user, all to help you understand your work force better.
Stock Reports
Use stock reports along with the real-time stock control to find out important information, such as best sellers. Or use the reports to give to your associates and providers.
End-of-day Reports
Nothing is as stressful than an end of day cash up doesn't add up. Use XEPOS to take care of your end-of-day reporting and ensure that all your reports add up.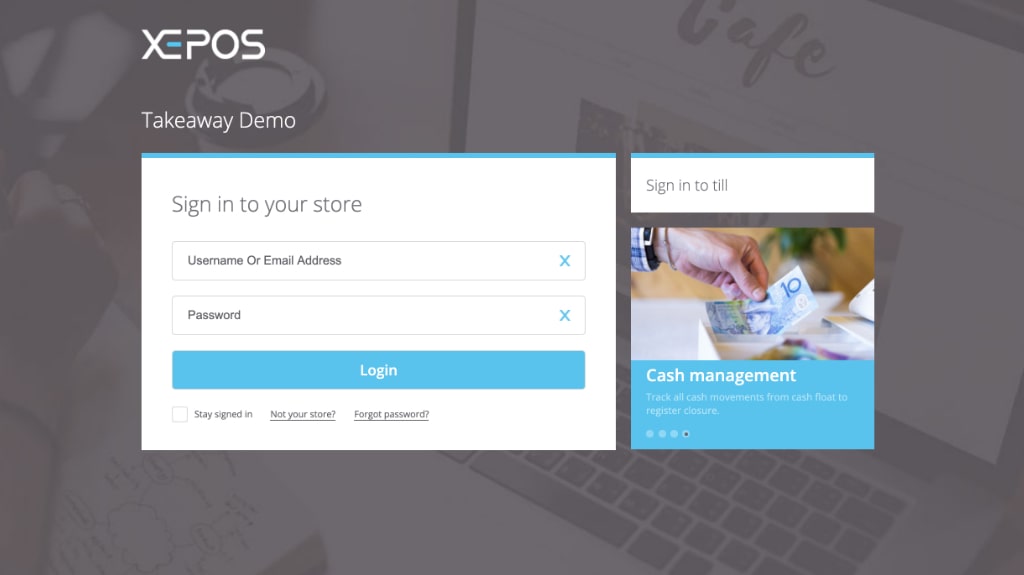 Remote Access
With the power of the cloud, you can access your back office from anywhere. View reports, change prices, update information, and more, all from the comfort of your own home.
Data Security
You wouldn't want people looking through your paperwork, so why would you want people looking through your till system? With XEPOS, we secure all of your information on our secure servers, and allow for full account customisation, giving you the security you need.
Live Updates
Consistent security updates and regular feature updates, giving you the tools you need to take your business to the next level.
Add Locations Quickly
Add all your locations and manage them in a single back office. We help you monitor each and every aspect of your business with an integrated EPOS system. You can even check out the stock level of all the locations in a single inventory.
Currency Preferences
Different currency types and preferences will keep your customers satisfied and work even better if you have branches overseas. Have you back office automatically convert all monies to a currency of your choosing, and easily see how each store is performing. Choose a suitable currency type and you're good to go!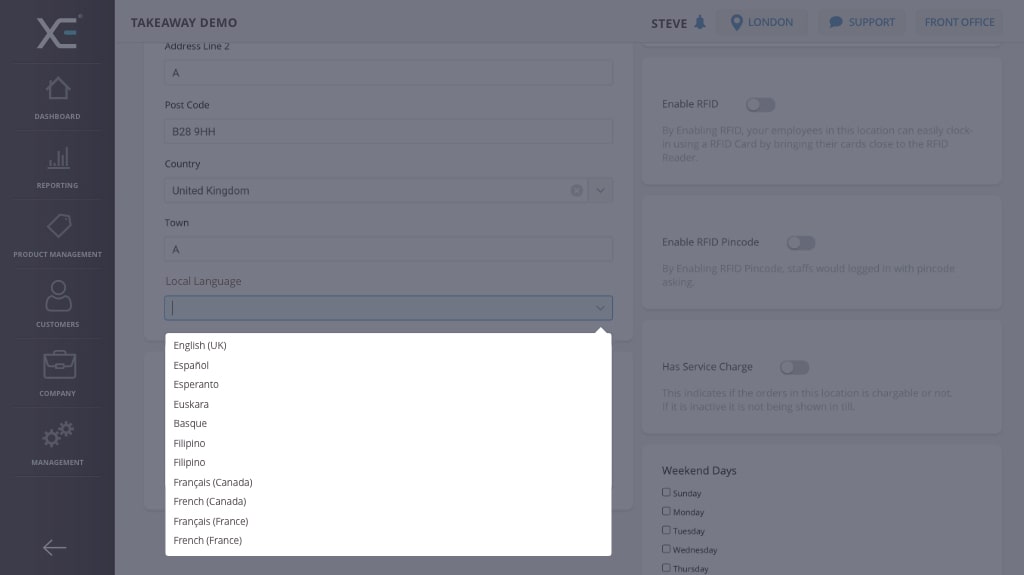 Multi-Language Support
Maximise efficiency by choosing the appropriate language for your EPOS system. Customise each staff member's account with their language preference so they can find their way around the system more efficiently.
Stock Movement
Location running low on stock? Noticing locational market changes? Use XEPOS' stock transfer setting and move the stock between locations while keeping the inventory exact at all times.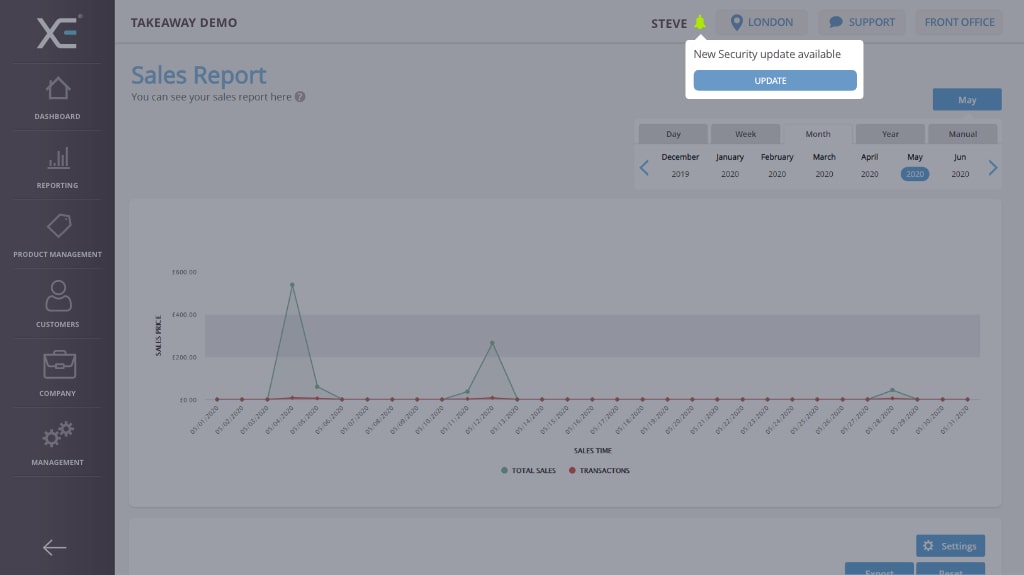 Cloud Integration for Data Safety
Data security is becoming more and more important everyday, and for your till system, you should expect no less than perfect. At XEPOS, we pride ourselves on our security, with a dedicated security and risk team, and provide consistent updates to ensure your data is safe.
Location-Based Reports
Our back office software collates all of your locations into one, uniform, customisable access point. View locations independently, all at once or even select specific locations and collate them into one. View reports, graphs, analytics and more, all with the press of a button.
Fully Customisable
We've made our system completely customisable, allowing you to have access to more functionality and features right at your fingertips.

Fully Integratable
You can link the system to your bank, EPOS or GPRP printer with immense ease. Our system is entirely integrable making doing business easier!
Support Payments
You can now link to third-party systems, such as: payment payments, GPS trackers, CRM, ERP and much more. It's never been easier!

Artificial Intelligence
Our system uses artificial intelligence to provide smarter functionality and allow you the reap the benefits of using XE Eats.
Multiple Stores
You can now do online ordering for all of your stores from a single system! We've made it possible to control and  your monitor everything from one source.

Multiple Time Zones
When using our system, it will automatically adjust its date and time (zone) to the one that you are currently operating in, regardless of where the server's location is.
Built-In Marketing
XE Eats allows you to directly email or SMS your customers from the ordering system, enabling you to have constant contact with everyone at all times.
In-Store Ordering
Self-service or waiter-led ordering allows for direct ordering from tables, room-service or simply reduced queues.
Phone
Need to speak to someone? Call our support or customer service teams on 0121 387 0007
Live Chat
Need quick help? Visit our online chat and get an instant response from our experts. 24 hours a day, 7 days a week.
Email
Get documentation, customer service and technical support via email, with quick responses no matter the time.
Dedicated Programming Team
Let us do the hard work for you! Simply send in your product list or menu to us, either via picture, or excel spreadsheet, and our programming team will enter all of your products onto your system, even before its reached your doorstep.
Free Installation and Training
Learn how to use your system to its fullest. We provide free installation and training for the first year, letting you and your staff get comfortable with the system, helping you to unlock the full potential of your business.
FAQ's
Take a look at our FAQs to find out more about XEPOS, your system, what it's capable of.
Connect with us on Connect with us on Social Media
Twitter, Instagram, Facebook, LinkedIn. Connect with us on any of our social media to find out more, speak to our marketing team, or be directed to the right location.
Try XEPOS Risk Free!!
We have spent the last 6 years working with other businesses in your sector. We understand every painpoint,
that's why we have created the perfect epos system specificaly for your business, with every feature you will ever need.
Contact Sales